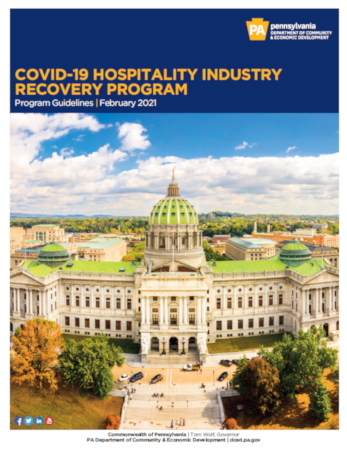 The Schuylkill County Commissioners, Schuylkill Economic Development Corporation (SEDCO) and NEPA Alliance have partnered to deliver the COVID19 Hospitality Industry Recovery Program (CHIRP) for eligible businesses in Schuylkill County. The CHIRP program was recently announced by Governor Wolf and approved by the Pennsylvania General Assembly to help hospitality businesses across the Commonwealth financially impacted by closures and lost income due to the COVID19 pandemic. The State Legislation allowed for a maximum grant amount of $50,000, however, in order to positively impact the most Schuylkill County businesses this funding will be limited to $25,000 grants at this time.
"There are so many Schuylkill County businesses that have endured closures, were subject to decreased capacity allowances and staff lay-offs during this past year," said County Commissioner George Halcovage. "These funds will serve as much-needed lifelines to those in the hospitality and restaurant industry as these businesses press on to continue operations. Again, it is imperative that we support our local business community. We look forward to the success of this program that will be professionally managed by NEPA Alliance."
Overview
The COVID-19 PA Hazard Pay Grant Program was established to help employers provide hazard pay to employees in life-sustaining occupations during the coronavirus (COVID-19) pandemic. Hazard pay is intended to keep front-line employees working in sectors that are vital to every Pennsylvanians' existence. The program will help employers provide hazard pay for their employees to retain current employees. This reimbursement-based grant is for employers who will be offering hazard pay over the eligible program period.
Applications will be received between July 16, 2020 and July 31, 2020.